In this post, I'll show you how to use default replacements in The Sims 2 to update your graphics, change the way your Sims look, and basically refresh your entire game.
I've received a lot of questions about using defaults on Youtube and various social media. Since I just made a change in my style, I thought it was a good time to post some instructions and resources for those of you who are new to defaulting.
And even if this is old hat for you, I still think you'll find some useful information here – such as my chart of matching defaults and organization tips.
Table of Contents
What Are Default Replacements?
In the Sims series of games there are two types of custom content you can download and install – default replacements and custom/non-default.
Default replacements are files that TAKE THE PLACE of content – such as hair, skin, eyes, etc. – that already exist in the game. They replace rather than delete the content so that it appears differently in your game.
For example, I HATE those ugly "knee jeans" as I call them from The Sims 2 base game.
To get rid of them, I can either hide them using hider mods or replace them with a nicer pair of jeans. I decided to replace them with this lovely pair of jeans from Fated Ophelia. Here's a before and after:
Default replacements are a type of custom content (abbreviated as CC). Anything not a default replacement is just considered "custom" and is sometimes referred to as "non-default." Normal, non-default CC adds new content to your game.
In many cases, you may run across CC with two download options – one for default and one for custom or non-default. Now you know the difference.
Download the default version to replace existing content or the custom/non-default version to add the item to your game without replacing anything.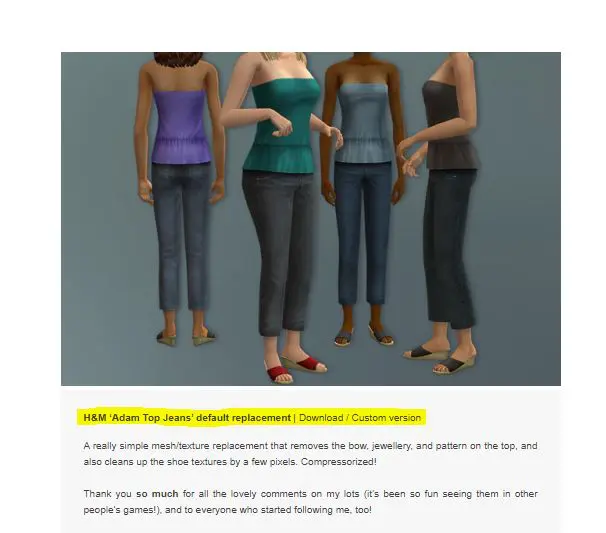 In the picture above, the creator has provided a link for both the default replacement and the custom version, so you can choose the one you want.
Why Do I Need Defaults?
You don't, I guess. Maybe the better questions is, "Why should you want them?"
Defaults can take an old, dated game like The Sims 2 and make it look fresh and modern. They can change the entire look of your game world while still remaining Maxis Match (like me) or even going more realistic if that's what you like.
Once you add a default replacement to your downloads folder, all the Sims wearing the original clothing or hair will now be wearing the new updated version – with no extra work required.
Types of Default Replacements
There are several different types of defaults you can use to update your game. Hair, skin, eyes, and clothing are the most common. But you can also replace the neighborhood terrain and textures to make your 'hood look brighter and more alive.
Let's take a closer look at each type.
Hair Defaults
If you want your game to look good, choose a specific set of colors and textures to use as defaults for your hair (and for any custom styles you download). If you want your game to look like garbage, go ahead and mix 'n' match like you're a 12-year old on their first custom content shopping spree.
If you're new to this, it might seem daunting because there are A LOT of different hair creators, colors, and textures out there. Here are the best ones (in my opinion):
New Hair System (remi's textures with pooklet's natural colors)
Poppet's V2 Textures and Colors
Peppermint & Ginger (zeusar textures with her own colors)
In the picture above, Nina and Dina are wearing hair from The New Hair System (my favorite and the one I'm currently using).
Look for hair systems that include default replacements for all or most of the hairs in-game and that have a style you personally like. You may have to try out a couple before you find the one you like best – see "where to find" below for links.
Eyebrows & Facial Hair
After choosing the default hair you want to use, you'll need to find matching eyebrows and facial hair. All three of the hair systems I listed above have eyebrow and facial hair defaults – as well as additional custom options – available.
Just these little touches make a huge difference. Here's an example:
In the picture above, I'm using my favorite hair from The New Hair System. Jennifer on the left has Maxis eyebrows and Jennifer on the right has the matching default replacement eyebrows. See the difference?
Face Templates
Default face templates replace the 27 Maxis default faces with improved versions. The face templates are the faces you choose from in CAS when creating a new Sim.
Don't worry! They don't change the appearance of the premades or any Sims currently living in your 'hoods. They only affect the templates used for creating new Sims in CAS and bodyshop.
Here's the difference between Maxis Face 01 and a default replacement Face 01 using Mina's 27 face templates (my favorites):
She also has custom eyes in the second picture, but you get the idea.
You can mix and match faces from different sets or download an entire set by a single creator. Just make sure you only have one default for each face – one for face 01, one for face 02, etc.
Skin Defaults
Skin default replacements are exactly what they sound like. They replace your Sims' skin. There are two types of skin defaults – Maxis Match and realistic. I like Maxis Match, but there are beautiful skins out there in both styles. Here are some examples:
The picture above is a Maxis Match default skin (Feathers Skinblend by Lilith).
(And yeah, I know this is a weird picture with Cassandra in her undies right next to Mortimer, Darren, and Daniel. But I needed Sims in all four skin tones to demonstrate the full range of the skin colors.)
The picture above is a realistic default skin (Lilith's Solitude Skin).
As with hairs, you may have to try several different skins before you find one you like and that matches your default hairs. This is why I recommend choosing your hair first. It makes finding a default skin much easier.
Just like with face templates, you can mix and match default skins from different creators as long as you only have one for each of the four skin tones. You can also find defaults for supernatural skins including aliens, zombies, plantsims, genies, werewolves, etc.
Eye Defaults
Default replacement eyes make a huge difference in your Sims' appearance. If I could choose only ONE default, I would choose eyes. The Maxis eyes just look so…dead and soulless. Eyes were the first defaults I ever experimented with. It's easy to find them – either Maxis Match (MM), realistic, or somewhere in between.
Here's an example of how much better your Sims will look with replacement eyes:
In the picture above you can see those creepy Maxis eyes compared to a nice pair of defaults (Poppet's Plain & Simple). The improvement is undeniable.
Makeup Replacments
The Maxis makeup leaves a lot to be desired, and modern content creators have done a much better job. You can replace all the Maxis makeup in the game (which is what I do) and all the Sims currently wearing it will have a fresh, updated look.
In the pictures above, you can see the difference in Lilith's makeup after installing these default replacements. Of course, she doesn't look as Goth as before, but you can always give her a makeover. The point is, this makeup itself looks a lot better.
Just like with clothing and hair, you can also hide the Maxis makeup and just use custom stuff. I prefer to replace the makeup AND use custom additions since there really isn't that much Maxis makeup to begin with.
Clothing Replacements
After finding the hair, skin, and eyes you like, the next step is replacing the Maxis clothing. You have a few options here:
Replacing every single outfit in the game
Replacing only the outfits you don't like (like those hideous skinny knee pants)
Hiding ALL Maxis clothing and using only custom clothing
Replacing nothing and using all the Maxis clothing in addition to any custom clothing you download
Replacing every single outfit in the game is tedious, but doable if you want to devote the time to it. Another option is just replacing the clothing you hate the most with defaults. The later expansion and stuff packs did have some cute clothing. I especially like the outfits from H&M Stuff.
But if you just want to get rid of all the Maxis Clothes and start over, you can do that too with the help of hiders. These are mods that hide the Maxis clothing and hairs so that they don't appear in your game. There are pros and cons to using hiders, which I'll cover in a future post.
For the purpose of this post, I'll assume you're interested in replacing at least some of the Maxis clothing. Here's an example of a dated Maxis outfit replaced with a nicer, modern outfit:
Replacing clothing has an immediate impact on the appearance of your game. Townies previously wearing the Maxis outfit will now wear the replacement instead. It's really fun to go to a community lot and see the new clothes your townies are wearing after you're done downloading defaults!
Neighborhood Defaults
In addition to replacing your Sim's clothing, hair, and skin, another way to update your game and make it look modern is to replace the neighborhood terrain, roads, and trees. Adding skylines and a realistic sky is super easy and adds so much to the environment.
I've created a video tutorial on how to beautify your 'hood and make it look like the picture above. It just takes a few mods and a placing two objects in your neighborhood to achieve this effect. Works for all 'hoods – even subhoods. But you will need to place the skylines and sky in each 'hood separately.
All instructions are included in the video, and you can find all the mods you need here. There are a variety of skylines to choose from including desert, snow, island, green hills, and more so you can match any neighborhood.
Where to Find Default Replacmements
The best place to find defaults depends on the type. I'll break the links down by type and color/texture system to make it easier to find what you're looking for. I left out the neighborhood defaults since they're covered in the section above.
The links for non-default (custom) hair, brows, and facial hair above are meant to be used IN ADDITION TO the defaults. You will need one set of defaults and you can add as many extra non-defaults as you want for more variety.
How to Install Default Replacements
Install your defaults the same way you'd install any other CC. Just put it in your downloads folder and start the game. I won't reinvent the wheel here, but here are some guides for installing CC if you've never done it before:
You can safely remove defaults at any time and your Sims will go back to wearing what they were before – or random Maxis outfits, hair, etc. It won't hurt anything. The only thing that remains the same is any faces you created using default face. templates.
Organizing Your Defaults
If you download a lot of defaults, you'll need to keep them well organized. This helps you see what you've downloaded and prevents duplicates. I use a system of folders and a spreadsheet for clothing and hair. Find a system that works for you!
I use a spreadsheet that I created with all of the outfits and hairs in the game. When I download a default for that specific outfit or hair, I mark it off on the spreadsheet with a check-mark. This helps me keep track of what I have and what I still need.
Here's a peek at my Toddler tab on my default clothing spreadsheet:
If I decide to keep a Maxis outfit, I write KEEP next to the name. If I download a fixed mesh or basic edit, I note that too. The check marks are for outfits I have replaced with a completely different outfit.
I also keep the files organized in sub-folders. I created these folders myself because I have a specific way I like to organize them, but there's also an empty defaults folder you can download to save you a lot of work (link below).
Inside the folders for each type of default (i.e. A – CAS – Defaults – Clothing – Female – Teen – Everyday), I save each replacement in its own folder named after the Maxis file name.
In the picture above, you can see my teen female everyday clothing defaults. I also save a picture of the default and a notepad containing the download link in case I need to find it again – mostly for sharing purposes.
Here are some downloads to help you keep your defaults organized:
If you don't have Excel on your computer, use the Google Sheets links for the spreadsheets. Then, you'll need to save a copy to your own Google Drive before you can edit.
Removing Default Replacements
What if you try a default replacement and don't like it? You can remove it from your downloads folder and your Sims will go back to normal. No harm done.
Playing around with defaults is completely safe and won't hurt anything, so don't worry! You can easily switch them out or remove them entirely AS LONG AS YOU DO SO IN YOUR DOWNLOADS FOLDER.
WARNING: DO NOT EVER delete default replacements using the trash button in bodyshop or CAS. This can corrupt core game files. If you want to remove a default you don't like, simply delete it from your downloads folder..
When you download default replacements, some of them modify the property set of the core game files. This will enable the trash button to show up in CAS and bodyshop. Removing them by using the trash button can cause problems – such as core game files being deleted or corrupted.
To stay safe, always make changes to your defaults in your downloads folder only.
My Updated Maxis Match Style
I've been using default replacements in my Sims 2 game for many years, and I've always been a Maxis Match player (except for that one time we never speak of). Recently, I've begun using what I call an "Updated Maxis Match" style of graphics using a certain combination of defaults.
Here's a detailed list of what I'm using to make my Sims look like the picture above:
These are what I'm using in my new custom neighborhood (to be documented on Tumblr).
My Old Maxis Match Style
The neighborhoods in my Youtube Let's Play series' still use my old defaults (for now). Here's a list if you're looking for those:
HAIR: Maxis hair and the few TRUE Maxis Match hairs I could scrounge up. You can find most of them on my Male Hair and Female Hair Pinterest Boards.
EYEBROWS: Maxis brows
FACIAL HAIR: Maxis facial hair
FACE TEMPLATES: Mina's 27 Face Templates
If I ever decide to change my style again, I will update this post. But for now I'm happy with my current choices.
What style of defaults replacements do you use? Do you have anything to add to the information in this post? Leave a comment below and let us know!